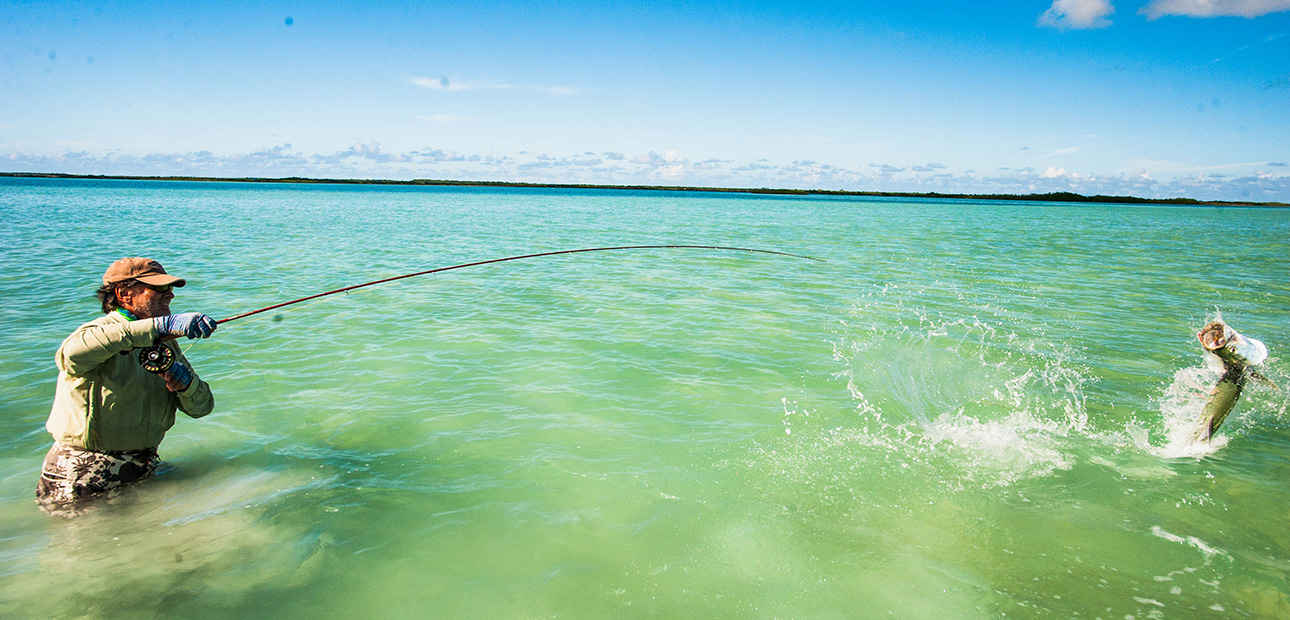 Fly Fishing in Saltwater
Fly fishing in saltwater is increasing enormously and presents new challenges to local fly fishermen. Thanks to Google Earth hardly a spot of this earth remains undetected and possible destinations worldwide can be spied on the computer in advance.

Especially fly-fishing in saltwater has its own special charm and is hardly comparable to fresh-water fishing. Basically, the saltwater fly fishing is usually talked about warmly and we can recommend the Caribbean and its neighboring states as a real classic in terms of this fishery.

We have a very broad knowledge base and the most intensive saltwater fly fishing experience. Our wealth of experience spans over 35 years and is highly topical. Whether Florida, Mexico, Cuba, Seychelles or Belize - we can certainly give you very good recommendations and tips for your destination.
We would recommend the following outfits for bonefish, permit and tarpon:
Bonefish
The ideal bonefish combination should be able to effectively handle conditions that can vary from completely calm to extremely windy and this set-up does that to perfection. It will effortlessly deliver a silent presentation that won't disturb even the spookiest bonefish in quiet shallows, yet it is equally as efficient when it comes to driving a tight loop into a strong head-wind with precision. The high-capacity reel's silky-smooth drag never misses a beat and protects the lightest tippets even when a double-digit monster heads toward the horizon on a signature blistering run. When it comes to stalking bonefish, this is the quintessential outfit."
— Jon Cave, Sage Ambassador
Rod: SALT HD 890-4 (LINK)

Reel:
SPECTRUM MAX 7/8 (LINK)
Line:
RIO DirectCore Flats Pro WF8F (LINK)


Permit
Catching a permit on fly requires patience, perseverance, and the right fly rod and fly line. To be successful you must be accurate with the fly presentation in all types of conditions. The 9 weight SALT HD rod with RIO FlatsPro Fly Line gives you the confidence to be successful and meet the demands of permit on fly."
— Raz Reid, Southeast Sage Rep


Rod:
SALT HD 990-4 (LINK)
Reel:
SPECTRUM MAX 9/10 (LINK)
Line:
RIO DirectCore Flats Pro WF9F (LINK)


Tarpon
Bar none, Tarpon are the most rigorously demanding shallow water gamefish of an angler's tackle, and the SALT HD stands up to the test. The responsiveness of KonneticHD Technology provides my anglers with the ability to present flies delicately at short distances to laid up Tarpon in off-colored water, while still maintaining the ability to reach out far to strings of swimming fish. The low stretch properties of DirectCore incorporated in the Flats Pro makes the insurmountable feat of penetrating a Tarpons mouth more feasible and ensures in increasing more quality hook ups, amounting to less fish jumping off. The dynamic duo pairing of the SALT HD with the Flats Pro aids in leveling the playing field for all anglers in pursuit of these mythical dinosaurs that lurk beneath the surface."
— Capt. Camp Walker, Sage Elite Pro


Rod: SALT HD 1190-4 (LINK)
Reel: SPECTRUM MAX 11/12 (LINK)
Line:
RIO DirectCore Flats Pro WF11F low-viz color Gray/Sand/Kelp
(LINK)