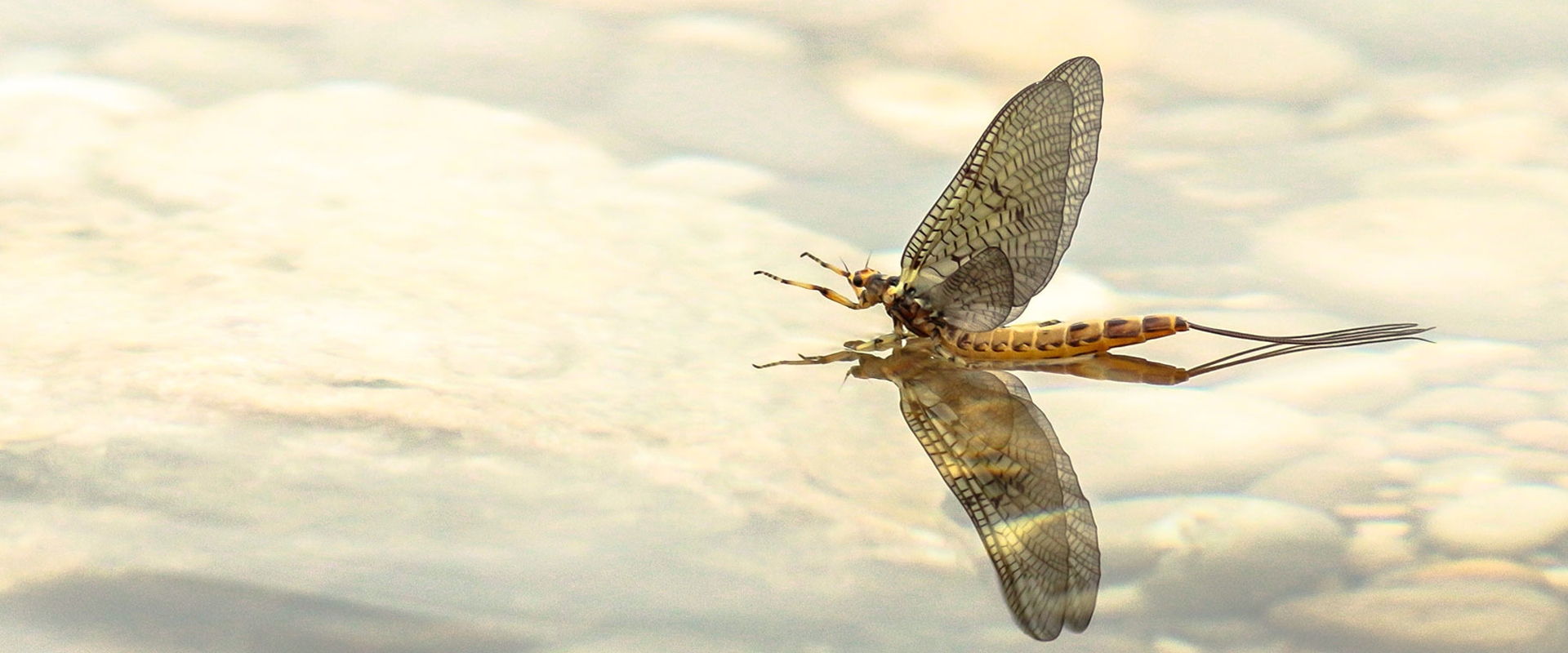 Fly fishing with the mayfly

It is May and a very fascinating fishing is imminent, because every year from mid-May to mid-June there is the chance for a short time to fish on various rivers in Europe with large mayfly patterns, so-called "may flies".
The Wiesent in Franconian Switzerland is probably the most famous "mayfly river" in Germany with a very long tradition. But great Mayfly fishing is also possible on the Blau, Mangfall, Alz, Sinn, Chiemsee and many other meadow streams and chalk rivers!
Fishing can be breathtaking and spectacular on the one hand, but also nerve wracking and extremely challenging on the other. Tales of mayfly fishing put a sparkle in the eyes of many fly fishermen. You hear stories that seem almost impossible.
The main characters are mostly large brown trout, which are difficult to catch. In late spring there is a rare chance of catching a dream fish on the surface with a large imitation Mayfly (Ephemera Danica)!
Trout LL Fly Rod
SAGE Trout LL With a delicate touch and medium action, the TROUT LL family has been designed with the trout angler and dry flies in mind. Through blank taper optimization and specialized length offerings, the TROUT LL is perfected for wade fishing, closer casts, small flies, and light tippets. A relatively supple tip maximizes light tippet protection and gives way to a smooth easy-loading mid-section that increases feel and feedback throughout the casting stroke. When the hatch is on, the TROUT LL is an angler's best friend. Drawing inspiration from historic Sage rods of the past, the TROUT LL is a nod toward tradition with a classic appearance and a smooth casting taper, yet adds modern performance features in accuracy and loop control through the backbone of Konnetic HD blank material. The TROUT LL series is available in a combination of classic dry fly line weights and lengths 7'9" though 9'0" while beautiful wood inserts and premium componentry add an elegant touch to these high performance rods. Features and uses: Walk and wade trout fisheries Delicate Presentations Supple tip for protecting light tippets KonneticHD Technology Mahogany blank color Bronze primary thread wraps with Gold trim wraps Fuji ceramic stripper guides; Hard chromed snake guides and tip-top Walnut wood insert with Bronze up-locking reel seat Super Plus snub-nose, half-wells cork handle Tan rod bag with Brown logo and model tag Brown powder coated aluminum rod tube with Sage Medallion Recommened lines: All-Around: RIO Gold WF Floating Lines Technical Presentations: RIO Technical Trout WF Floating Lines Model All-Round Technical Presentations Description Flies 379-4 RIO Gold WF-3-F RIO Technical Trout WF-3-F A great tool for small, brushy streams and close casts. The 379-4 is a joy to play fish on and protects light tippets incredibly well. Small caddis and attractors 389-4 RIO Gold WF-3-F RIO Technical Trout WF-3-F Best on small to medium streams but in a pinch can hold it's own on large water. It may be the ultimate tool for wading a stream while fish are actively eating micro bugs off the surface or in the film. Tricos and small mayflies 486-4 RIO Gold WF-4-F RIO Technical Trout WF-4-F The perfect tool for small stream fishing when you want the versatility to cast larger flies. The 486-4 opens up the option to cast large terrestrials while still offering accuracy and lightweight feel that is perfect for smaller fish in smaller water. Small to medium sized mayflies and caddis 490-4 RIO Gold WF-4-F RIO Technical Trout WF-4-F An amazing all-around tool for the angler who plans the day around a dry fly hatch but also wants to mix in some other techniques during a stale mid-day hour. Small to medium sized mayflies and caddis 586-4 RIO Gold WF-5-F RIO Technical Trout WF-5-F The 586-4 features the versatility of a 9'0" 5wt with increased accuracy in tighter spaces. Great for the angler looking for a rod to do it all with a slight focus on smaller water. Medium sized caddis and terrrestials 590-4 RIO Gold WF-5-F RIO Technical Trout WF-5-F A 9'0" 5wt featuring a modest casting tempo and a smooth but versatile action. A versatile tool designed to cover the majority of scenarios faced by a trout angler. Medium sized mayflies, caddis, and terrestrials 690-4 RIO Gold WF-6-F RIO Technical Trout WF-6-F The 9'0" 6wt brings the smooth and easy-loading action to a six weight size. The 6wt is a versatile player and can handle anything from small flies to streamers. This 6wt takes it all in stride and offers a unique experience for the angler who wants to cast at a slower, more deliberate tempo. Larger stoneflies and terrestrials
Spectrum LT Reel (Morel)
The SPECTRUM LT reel offering brings a sophisticated, high-performance drag system to an ultra light rigid frame. The One Revolution Drag Knob offers quick and precise drag settings and provides the kind of power and smoothness you'd expect from a large traditional drag system, only without the bulk or weight. Color: Morel Details SCS Drag One Revolution Drag Knob with numbered and detented settings Large arbor for fast line pick-up Concave arbor for greater strength and capacity Ergonomic handle Easy conversion from left- to right-hand retrieve Neoprene and embroidered ballistic nylon reel case Material Fully machined 6061-T6 aerospace grade aluminum Cold forged and tempered for superior strength and rigidity Hard anodized for surface protection and corrosion resistance Type Capacity Weight Reel Reel diameter outside Spool width #3-4 WF-4-F & 100yds (20lbs) Backing 110g 8,3cm 3,2cm #4-5 WF-6-F & 100yds (20lbs) Backing 120g 9,2cm 3,3cm #5-6 WF-6-F & 100yds (20lbs) Backing 120g 9,2cm 3,3cm #7-8 WF-8-F & 200yds (20lbs) Backing 170g 10cm 3,5cm #9-10 WF-10-F & 200yds (30lbs) Backing 202g 11cm 3,8cm SAGE SCS Sealed Carbon SystemIts silky-smooth inertia at start-up and consistent pressure protects tippets throughout battle, and the carbon drag itself is sealed to keep out water, sand, grit and salt. Plus, one size does not fit all; larger reels demand more carbon, so SAGE tailors their drags to fit specific reel sizes. Now you are never outmatched.
Premier Gold (melon/gray dun - floating) Fly Line
THE ULTIMATE, ALL-AROUND floating line for trout with ultra-slick performance. The RIO GOLD has a revolutionary taper design that gives incredible loop stability at distance, a unique profile that allows a rod to load at close range and a front taper that delivers perfect presentation of flies between sizes #22 and #2. The RIO Gold is the ultimate all round, floating line for the trout fly fisher and is built with "MaxFloat Tip" technology, RIO's proprietary tip coating formula that floats more than twice as high as regular line tips, without any increase in diameter. In addition, this line is built with SlickCast, creating the slickest, most durable coating on the market—producing the least amount of friction ever measured in a fly line. Long head for ultimate casting control Built with RIO's exceptionally slick, durable SlickCast Front biased weight to load rods at close range Taper design to cast flies between #22 and #2 Color: melon/gray dun Technology SlickCast MaxFloat Tip Features DualTone EasyID Front Loop Back Loop Type Full Head Weight Full Head Length Full Line Length WF-3 158gr (10.2gm) 45ft (13.7m) 80ft (24.4m) WF-4 175gr (11.3gm) 46ft (14m) 90ft (27.4m) WF-5 208gr (13.5gm) 47ft (14.3m) 90ft (27.4m) WF-6 234gr (15.2gm) 48ft (14.6m) 90ft (27.4m) WF-7 270gr (17.5gm) 49ft (14.9m) 90ft (27.4m) WF-8 310gr (20.1gm) 50ft (15.2m) 90ft (27.4m) WF-9 345gr (22.4gm) 50ft (15.2m) 90ft (27.4m)
Benötigte Ausrüstung – Empfehlungen:
Fliegenrute:
Als Fliegenrute empfehlen wir eine Länge von 9 Fuß (275cm). Manchmal kann eine 9'6 ft (290) Rute hilfreich sein, um hohes Ufergras leichter überwerfen zu können.

Fliegenrolle:
Hier eignet sich prinzipiell fast jede Fliegenrolle mit größererm Spulenkern. Dadurch kringelt die Schnur weniger und Ihr seid schneller mit Eurer Schnur am Fisch. Die Fliegenrolle sollte über eine gute aber sanft anlaufende Bremse verfügen, falls eine starke Bachforelle Eure Maifliegenimitation packt!

Fliegenschnur:
Grundsätzlich eignet sich jede schwimmende Forellenschnur. Die RIO Gold hat sich seit Jahren bewährt und die Schnur besitzt eine große Fangemeinde. Die Schnur befördert auch größere Maifliegemuster total problemlos.

Vorfächer:
Die Standardlänge sind 9ft (275cm) von einem monofilen, konisch gezogenen Nylon-Vorfach. Mitunter kann es sein, dass es gut ist dieses Vorfach mit einem Vorfachring etwas zu verlängern. Als Vorfachstärke empfehlen wir 0,16mm, 0,18mm oder bei großen Fischen auch mal 0,20mm. Bei besonder heiklen Fischen empfehlen wir ein Fluorocarbon Vorfach.

Wichtigstes Zubehör:
Ganz klar das Floatant (Schwimmmittel/Fliegenfett) Nev-R-Sink. Das gilt es auf die trockene Fliege aus der Fliegenbox aufzutragen. Dann schwimmt die Maifliegenimitation bzw. der Aufsteiger sehr lang und gut.

Bester Tipp:
Wir fischen unsere Maifliegen sehr gerne sehr aktiv! d.h. wir fischen die Muster selten nur still abtreibend. Ganz im Gegenteil! Haucht der Maifliege auf dem Wasser unbedingt leben ein. Es hilft das natürliche Insekt auf der Wasseroberfläche zu beobachten. Oft versucht die Maiflige abzuheben oder bricht gerade durch die Oberfläche durch. Das ist der richtige Moment und die Forellen drehen völlig durch!

Probiert es unbedingt aus! Wir wünschen viel Petri Heil! Erwähnt uns auf Instragram @rudihegerflyfishing, wenn Ihr erfolgreich wart!