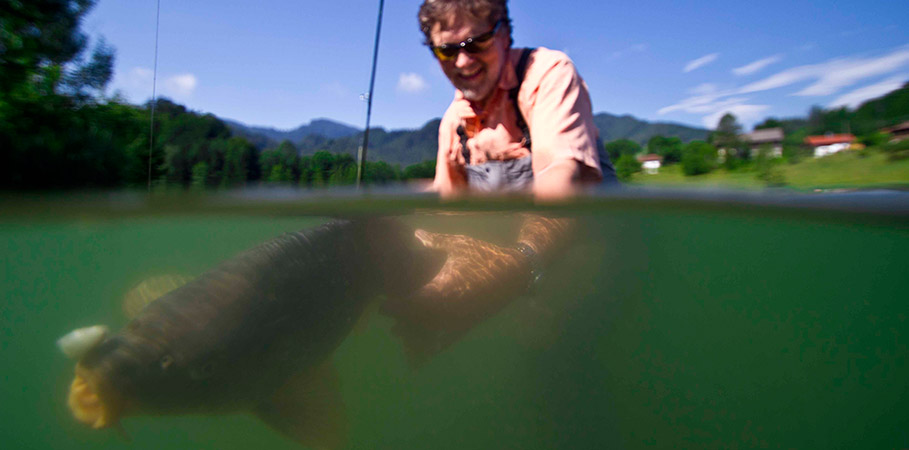 Fly fishing for Carp

At the moment the sun is shining intensely from the sky and the thermometer is showing previous highs. To be successful at this time, it makes most sense to fish on the cool trout stream in the morning with the rising sun or directly at dusk. During the day there is little activity on the water and the fish seek shelter in shady areas.
It is precisely these hot temperatures that really bring a species of fish that has so far received little attention in fly fishing into action: the carp! When the summer heat is really hot, carp are increasingly looking for food and circle in many waters.
Admittedly, it takes some getting used to going from a dreamy trout river to a supposed "carp pond". But when you see the large fish "patrolling" just below the surface, any initial doubts quickly disappear and the temptation is great to outwit a magnificent carp with a fly rod. The advantage of this fishery is that almost every fly fisherman has waters with good carp populations in his immediate area.


No long journeys are necessary to this most interesting fishery. Furthermore, exploration tours can easily be combined with a walk with your wife and child (of course without a rod and reel...). During these walks you will quickly notice where the carp like to hang out, where they stand in the sun and where they eat.


Before you make your first cast, you should check your equipment carefully, as every knot and every line-leader connection should be perfect to avoid any unpleasant surprises. We recommend a class #6 to #8 fly rod depending on the size of the fish expected or visible.


You should also pay attention to obstacles in the water. Can the fish swim away freely or is there a risk of it swimming into old wood or water lily fields? In the latter cases, the size 8 rod with a strong fly leader should be preferred in order to be able to keep the fish away from the obstacles.
A strong tapered leader and a floating weight forward line with sufficient backing are the basic requirements for successful carp stalking.
The fly reel should have a very good drag! A carp's constant powerful flight and head movements can put a lot of strain on a reel and its braking system. The gentle start of a drag is particularly important in order to avoid a quick leader break.


The good quality of your products quickly pays off here. When it's hot, carp, chub or other coarse fish are often found in shallow water areas or directly below the surface. This is exactly your chance!

Areas of fishing

Stalk the fish very slowly, using the cover of trees, bushes and tall grass. Wait to make your first cast and watch the fish. Now comes the trickiest part of fishing: where will the fish go? Where do I have to present my flies so that the fish swim exactly to the fly? This is why prior observation is very helpful. A good pair of polarized glasses can help enormously!

These shallow water fisheries are essentially real "flats" in the middle of Germany! You will see that this fishing can be very exciting and challenging! Present the fly (bread crust, squirmy worm, boilie, damsel, crab etc) at a sufficient distance (approx. 1-2 meters) from the fish and try to predict the fish's likely path.

The fly should move little or not at all. Too much movement often scares off the fish that move calmly through the water. If you are right with your presentation and fly pattern, then it could very well happen that the carp swims directly towards your fly and sucks it in with its lower mouth. Wait a moment and make the first attempt. Be prepared for stubborn and vehement escapes. This can take a few minutes until a carp appears.



A Boga Grip is a very helpful tool for landing a carp. One personal request: Do not under any circumstances lift the fish out of the water using the Boga Grip if you do not want to or are not allowed to take the fish. It is advisable to get into the warm water and remove the fish from the hook in the water. Now is the moment for a possible photo. If you let the water calm down for a bit, it is often possible to catch another fish in the same spot.
R8 Core Fly Rods
SAGE R8 Core Fly Rods - the revolution MADE TO FISH NOT TO CAST R8 Core is focused on maximum versatility and applies new revolutionary R8 material technology through our forward-thinking lens of what we're seeing out on the water - where one rod needs to show even greater range. At its core, R8 Core traces a direct lineage to Sage's multi-application / fast action vision, one shaped by the fishing evolutions happening all around us—from habitats we stalk and waters we frequent, to the flies we fish and the diversity of species we now target. Coming in a range from 3wt to 9wt, with a variety of lengths from 8'6" to 10'0", there's sure to be a model to fit the core needs of every freshwater angler. R8 Technology The advanced, leading-edge material behind R8 enables us to shape a rod with a stiffer, stronger backbone but a more sensitive tip and more connected feel. The secret is twofold. First, a proprietary aerospace composite with a greater hoop strength enables us to dimensionally grow taper diameter more quickly from the tip—while a nano-sintered resin application increases axial resilience and allows us to pack more fiber into the blank, resulting in that true two-way connection from hand to fly and back for greater feel, flow and control. Revolution 8 Technology Silver Pine blank color Slate primary thread wraps with graduated White and Grey trim Fuji ceramic stripper guides with hard chromed snake guides and tip-top Laser etched line weight on slide band Black rod bag with new quick-tie cord lock for faster, easier, and cleaner storage Aluminum rod tube with Sage medallion 3WT - 6WT Premium Flor grade snub-nose half-wells cork handle Sustainable Ziricote wood insert with anodized aluminum up-locking reel seat 5WT - 9WT Premium Flor grade full-wells cork handle with cork/EVA fighting buttGunmetal anodized aluminum up-locking reel seatIntegrated hidden hook keeper in reel seatA fast action provides the capability to stay tight to the line and in control of the presentation, while the high line speed drives a tight loop that assists in laser accuracy in technical dry fly situations. With ability to handle dry fly lines with long heads, increasing loop control when carrying long lengths and making precise casts to rising fish, all while making it easier to turn over long leaders for technical feeders at range. Nymphing With a sensitive tip section to protect light tippets, a versatile balance between lifting power and delicacy provides perfect synergy for nymph fishing. A very effective tool for anglers that fish nymphs and indicators wading or out of a boat. With a combination of power and feel,R8 Core allows for intuitively better cast timing, easier line lifts and sharp, precise mends leading to faster reaction times when setting the hook. Streamers A powerful butt section easily throws a wide range of streamers and accommodates a full lineup of sinking tip lines while also quickly pulling aggressive fish out of structure for increased landing success. The powerful butt section of the R8 CORE provides stability, connectedness, and power to rock and fire those one-shot casts. With feel that extends to the smallest dry flies, R8 provides the touch to deliver efficient mends with intention and precision. Setting From subtle sips to streamer strikes, the amplified sensitivity of R8 enables fine nibble feel that triggers instant, instinctual reaction for trout sets or strip sets. FISH FIGHTING With a fish on, R8's fusion of stronger backbone yet greater feel enables you to control your fish, even from tough structure, with touch and care. Details per line class: SAGE R8 Core - 390-4 #3 Fly RodFor delicate presentations of small flies to average-sized trout on light tippets, the 390-4 is the tool of choice. The length gives good casting distance and line control.SAGE R8 Core - 486-4 #4 Fly RodThe 486-4 is a trout lover's rod. Light in hand and extremely accurate, it delivers small to medium size flies to picky trout and protects light tippets during battle.SAGE R8 Core - 490-4 #4 Fly RodA light and versatile trout rod, the 490-4 offers great line control without compromising accuracy. Best for dry flies and smaller nymphs.SAGE R8 Core - 4100-4 #4 Fly RodThe 4100-4 is a standout nymphing rod. It offers the utmost in line control yet retains accuracy and delicacy for strike detection and tippet protection.SAGE R8 Core - 586-4 #4 Fly RodThe 586-4 is great for wade fishing for trout. Extremely accurate and able to cast a wide variety of fly sizes and weights.SAGE R8 Core - 590-4 #5 Fly RodOur most versatile and most popular rod model. The 590-4 handles trout flies of nearly any size, lines of varying densities and does so with superb feel, accuracy, and line control.SAGE R8 Core - 596-4 #5 Fly RodA slightly longer five-weight to aid in casting distance and line control when fishing for trout. The 596-4FB features a fighting butt and is great for big river fishing, nymphing, and stillwater situations.SAGE R8 Core - 5100-4 #5 Fly RodOur longest five-weight is our most powerful one. Able to cast longer distances, the 5100-4FB has the greatest line control and mending capabilities. Featuring a fighting butt, this rod is great for stillwater and nymphing scenarios.SAGE R8 Core - 690-4 #6 Fly RodThe 690-4 is a very powerful trout rod, able to cast large, heavy and wind-resistant flies long distances or into heavy winds. Great for big river trout fishing and smallmouth bass.SAGE R8 Core - 690-4 FB #6 Fly RodA fighting butt version of the 690-4FB. A streamer junkie's favorite, this rod has enough power to cast big streamers or bass bugs all day. The 690-4FB is all-water ready with an anodized aluminum reel seat.SAGE R8 Core - 696-4 FB #6 Fly RodThe 696-4FB is at home on big trout rivers where streamers and nymphing rigs are the norm and features an all-water ready reel seat.SAGE R8 Core - 6100-4 FB #6 Fly RodThe 6100-4FB offers incredible line control and power. All-water safe reel seat for beach fishing, or in big-river trout situations.SAGE R8 Core - 790-4 #7 Fly RodA very versatile and often-overlooked rod weight. The 790-4 is equally at home fishing streamers from a drift boat, bass fishing, or fishing for trophy trout and salmon in Alaska.SAGE R8 Core - 796-4 #7 Fly RodThe 796-4 is a favorite of steelhead-indicator fishermen and Alaska trout anglers. Added length for mendability and line control.SAGE R8 Core - 7100-4 #7 Fly RodThe 7100-4 offers the greatest line control of all 7-weights. With incredible mending capability in rivers and distance in lakes or bigger rivers.SAGE R8 Core - 890-4 #8 Fly RodOur most versatile and popular all-water rod model. The 890-4 is able to effectively present flies and handle the fight with Alaska trout and salmon, striped bass, largemouth bass or other similarly-sized species.SAGE R8 Core - 896-4 #8 Fly RodFor anglers fishing heavy, sinking lines or heavy, multiple-fly nymphing rigs to anadromous species, the 896-4 is the perfect choice.SAGE R8 Core - 8100-4 #8 Fly RodThe 8100-4 offers incredible line control and distance for anglers pursuing large species. Extremely effective as a beach rod for striped bass as well as a river rod for anadromous species.SAGE R8 Core - 990-4 #9 Fly RodThe 990-4 is a very versatile all-water and big game rod, able to pull on striped bass, large anadromous species, and big aggressive freshwater meat-eaters. MADE IN THE USA We're not a big faceless factory, but rather a workplace of craftspeople who design and build the world's best fly rods and reels using our hands and hearts. We do it by sharing ideas and always asking the next question to find what can be done to make this better. Our rods are built one at time right here on Bainbridge Island, WA, following hundreds of meticulous steps and passing through 23 sets of hands. We're out there fishing the same places in the same unforgiving conditions that you are. Craftsmanship is applied experience. Lifetimes of it.
Spectrum LT Reel (Morel)
The SPECTRUM LT reel offering brings a sophisticated, high-performance drag system to an ultra light rigid frame. The One Revolution Drag Knob offers quick and precise drag settings and provides the kind of power and smoothness you'd expect from a large traditional drag system, only without the bulk or weight. Color: Morel Details SCS Drag One Revolution Drag Knob with numbered and detented settings Large arbor for fast line pick-up Concave arbor for greater strength and capacity Ergonomic handle Easy conversion from left- to right-hand retrieve Neoprene and embroidered ballistic nylon reel case Material Fully machined 6061-T6 aerospace grade aluminum Cold forged and tempered for superior strength and rigidity Hard anodized for surface protection and corrosion resistance Type Capacity Weight Reel Reel diameter outside Spool width #3-4 WF-4-F & 100yds (20lbs) Backing 110g 8,3cm 3,2cm #4-5 WF-6-F & 100yds (20lbs) Backing 120g 9,2cm 3,3cm #5-6 WF-6-F & 100yds (20lbs) Backing 120g 9,2cm 3,3cm #7-8 WF-8-F & 200yds (20lbs) Backing 170g 10cm 3,5cm #9-10 WF-10-F & 200yds (30lbs) Backing 202g 11cm 3,8cm SAGE SCS Sealed Carbon SystemIts silky-smooth inertia at start-up and consistent pressure protects tippets throughout battle, and the carbon drag itself is sealed to keep out water, sand, grit and salt. Plus, one size does not fit all; larger reels demand more carbon, so SAGE tailors their drags to fit specific reel sizes. Now you are never outmatched.
Elite Grand
DESIGNED FOR FAST-ACTION fly rods, with low-stretch, ultra-slick performance. A full line size heavier to easily load fast rods Built with RIO's exceptionally slick, durable SlickCast Low-stretch ConnectCore Plus for the best in casting control, performance and smoothness Features RIO's SureFire tricolored measuring system for increased accuracy and distance control Front loaded, short head The ELITE RIO GRAND is a full line size heavier than the industry standard, and features more weight distributed towards the front of the line to easily load faster action fly rods. The low stretch core gives incredible levels of sensitivity when casting and fishing, and provides enhanceddetection of takes, faster hook sets, and far greater control when playing a fish. The RIO Grand is the best choice of line for the modern, fast action fly rod. In addition, this line is built with SlickCast, creating the slickest, most durable coating on the market—producing the least amount of friction ever measured in a fly line. Technology ConnectCore Plus SlickCast MaxFloat Tip Features SureFire EasyID Front Loop Back Loop Line details Type Full Head Weight Full Head Length Full Line Length WF-4 175gr (11.3gm) 37ft (11.2m) 90ft (27.4m) WF-5 195gr (12.6gm) 37ft (11.3m) 90ft (27.4m) WF-6 230gr (14.9gm) 39ft (11.8m) 100ft (30.5m) WF-7 280gr (18.1gm) 40ft (12.1m) 100ft (30.5m) WF-8 310gr (20.1gm) 41ft (12.5m) 100ft (30.5m)

Special advice:
Pay attention to the edges of water lily and herb fields! Large carp like to swim around there looking for food. Here you can use the vegetation and the water lily petals as a "leader rest". Let the leader submerge in the water just 20cm from the blade. This means your fly hangs exactly 20cm below the leaf. But be careful if the fish bites. Here it is important to keep the fish away from the water lilies as quickly as possible! Try it!

We wish you a lot of fun hunting for coarse fish in the summer. Send us pictures of your successful carp stalking! #rudihegerflyfishing (Years ago, one of our employees managed to catch a big carp on your 15cm long pike streamer. The carp completely inhaled the streamer!)

Practical tip: To start with, it certainly helps to "stimulate" the carp with bread flakes. The fish usually get used to it quickly and then eat diligently in place.

Please note: fly fishing with "bread flies" also involves certain risks - please make sure that NO ducks snap at the fly. You should definitely avoid this problem and quickly remove the bait or distract the ducks with a feeding place on land.



Equipment required – recommendations:

Fly rod:
We recommend a fly rod length of 9 feet (275cm). Sometimes a 9'6 ft (290) rod can be helpful for easier casting over tall bank grass. The line classes should be between 6 and 8.

Fly reel:
In principle, almost any fly reel with a very good drag is suitable here. The brake ensures that the carp cannot take an infinite amount of line right from the start and gets tired much more quickly.

Fly line:
Basically any floating fly line is suitable. However, lines with a pronounced club such as RIO Grand or AVID Grand are an advantage as they transport larger flies such as bread flies much better.

Carp Leaders:
The standard length is 9ft (275cm) of a monofilament tapered nylon leader. We recommend thicknesses of 0.25mm to 0.30mm. Here you should be guided by the size of the fish in the water. As a rule, feeding carp are not leader-shy.

Most important accessories:
Clearly the floatant (floating agent/fly grease) Nev-R-Sink. This needs to be applied to the dry fly from the fly box. Then the bread crust floats very long and well.

Be sure to try it out! We wish you all the best, Petri Heil!

Mention us on Instagram @rudihegerflyfishing if you were successful!