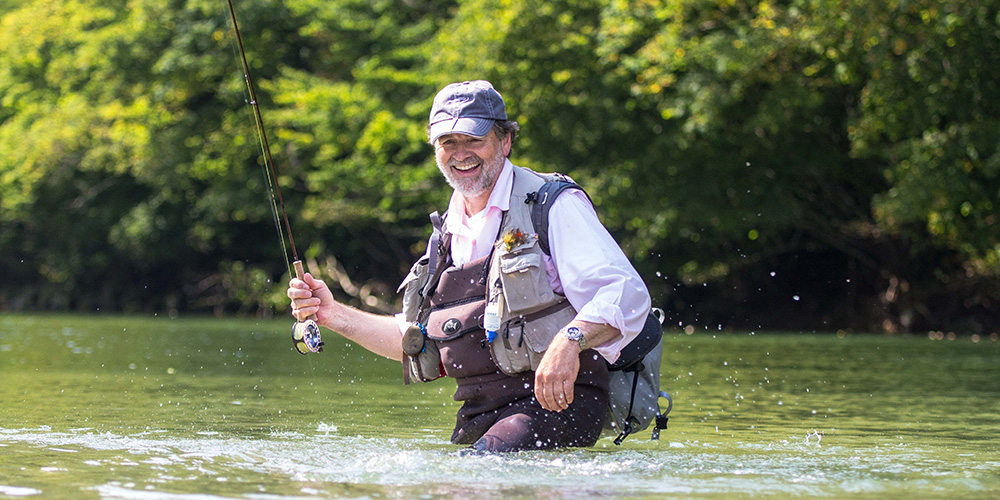 What is fly fishing?

---
Fly fishing is considered one of the most beautiful hobbies ever!
For some it is a hobby, for others it is a passion or even a lifelong passion!
Once you've tried it, you can hardly keep your hands off it! The carp rod often ends up in the corner when the first trout has been outwitted with a dry fly.
Here we would like to give you an introduction to fly fishing. Rudi Heger has been fly fishing himself for more than 40 years. Ultimately, today's special mail order business for fly fishing products, Rudi Heger GmbH, emerged from his passion for fly fishing. At the same time, he manages numerous waters for fly fishing such as the Bavarian Traun (directly in front of the company and other sections) or a section on the Styrian Salza.
What is fly fishing? Basics, terms, explanations

Fly fishing is... Fly fishing or fly fishing is a specific method of fishing. It differs from other methods mainly in that the bait, commonly called "fly", is too light to cast, so the weight of a special fly line is used as the casting weight. This requires its own throwing technique and special fishing tackle. The name fly fishing comes from the original way of imitating the bait. (Source: Wikipedia)


For us, fly fishing is...
- a wonderfully direct and very active way of fishing
- really easy to learn (contrary to popular opinion)
- challenging and exciting in nature
- a great passion from childhood to old age
- a gentle way to catch fish - suitable for learning patience and humility
- it has a relaxing and calming effect
- a great freedom and give you wonderful experiences with friends and in nature
- very often associated with a high level of perception and understanding of nature
- a real fascination that brings joy alone or in a group
- a great hobby with which you can travel all over the world to practice it there
- a very conscious handling of the fish
- practiced nature conservation
- it is by no means elitist!
All in all, fly fishing inspires young and old alike and is becoming a way of life for many of us!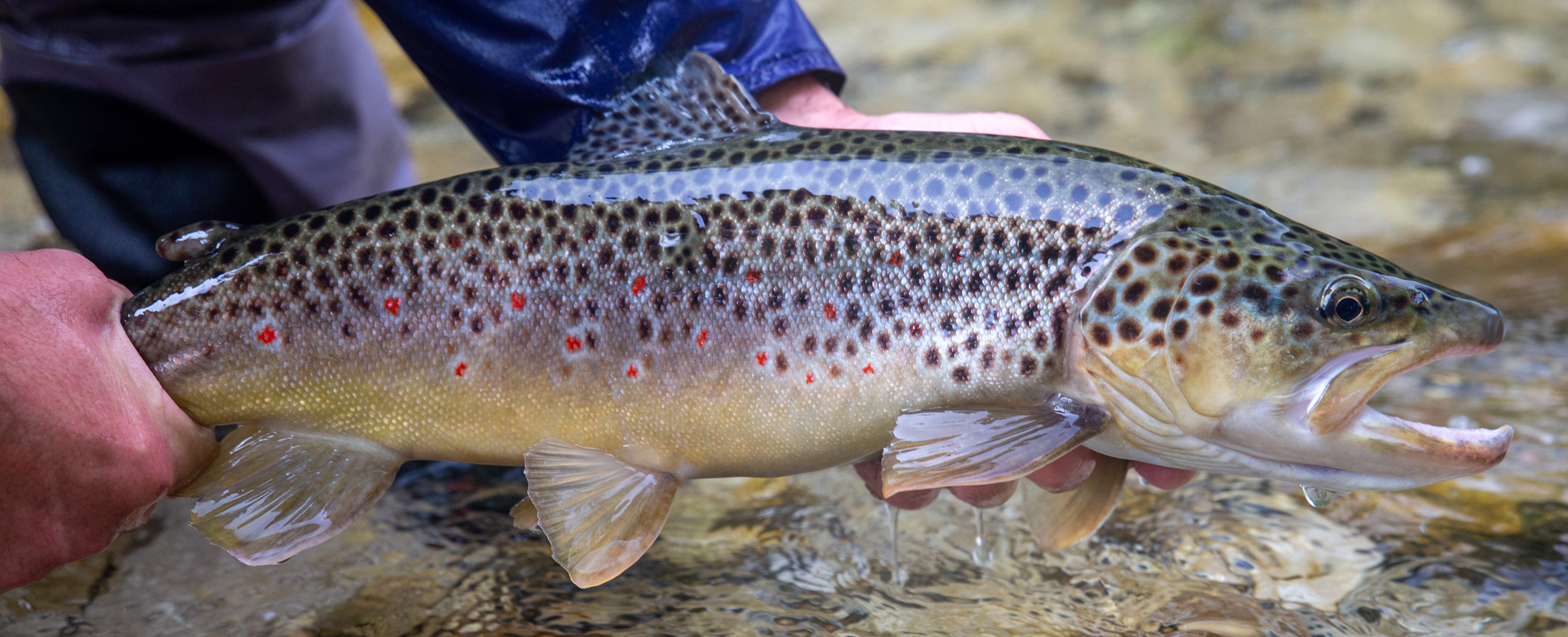 What equipment is necessary for fly fishing?
Fly Rod - Design, Action, Material
Worth knowing about the design and material of fly rods
The action and performance of a fly rod is significantly influenced by three factors:
1. The raw material used: Modern and high-performance fly rods should be made of carbon fiber material with the highest possible modulus.
2. The processing technology and quality: High Compression Molding, Generation 5 Technology, Konnetic HD Technology or R8 Technology (2022)
3. The rod's structural design: The desired bend curve is determined by the type of taper on the rod and the wall thickness of the material.
SAGE
is considered the world's leading manufacturer of high quality fly rods (Made in USA). They offers numerous different rod models with different actions.
All SAGE fly rods are handcrafted in the USA!
Ultimately, the fly rod is the crucial instrument of every fly fisherman. Especially with a premium fly rod from SAGE you will be able to reach areas in rivers that you could never reach with a cheap rod.
As a rule, you will enjoy a SAGE rod for several decades. Today's rod building technologies are so advanced that almost effortless casting is possible. Whether for fly fishing for trout, pike, GT or tarpon.
SAGE offers you the perfect
fly rod
for every purpose!
Basically, different actions are distinguished with the fly rods. A bamboo rod usually has a parabolic action. Today's "fast" rods often have a tip action. With these rods, a lot of power can be applied during the fight via the handle. Ultimately, every fly fisherman has to know for himself which action suits him best! We are pleased to advise you! These days there are some really great entry level fly rods that offer great value for money!
Fly reel - Construction, breaking system etc.

Basically, the quality of a
fly reel
is particularly important, since a lot is required of it during the fight with the fish. In particular, a soft-starting brake is very important to avoid a leader breaking.
Today's fly reels are differentiated according to materials, construction or properties:
What material is the fly reel made of?
Injection molding (plastic), die casting (aluminum), milled from a block (aluminum)

Capacity: How much backing and fly line fits on a fly reel?
Construction: How is the fly reel constructed?

Single action, direct drive with braking system or anti-reverse Braking systems:
what kind of braking system does the reel have? Cork drag, metal drag, carbon drag, clicker drag
Nowadays there are countless reel suppliers and fly reel models. We recommend that you pay attention to good to very good workmanship and, above all, to a soft, gently starting brake.
For light trout fishing there are nice entry-level reels with a decent brake.
The bigger the fish get, the more you have to pay attention to a very good quality and a very good brake. Especially when fishing for salmon, steelhead or pike, losing a fish due to a bad brake is completely unnecessary!
Please make sure that the quality is good to very good!
Fly Line

The
fly line
is important because it transports the bait "the fly" to the fish. A fly line is a "soul" covered with PVC. This PVC sheathing has different structures such as club shape. This makes a fly line lighter. A leader is tied to the front end. The backing is attached to the rear end, e.g. with Albright knots.
Fly lines are differentiated according to the following properties:

1. Swimming characteristics of a fly line:
floating = floating
Intermediate = very slightly sinking
Floating/sinking = floating main line with sinking tip
Sinking 3 = sinking at about 3 inches per second (about 8 cm per second)
Sinking 5 = sinking at about 5 inches per second (about 12.5 cm per second) Sinking
7 = sinking at about 7 inches per second (about 18 cm per second)
Full sinking = full sinking fly line


2. Line class / weight of a fly line:
There are fly lines from #0 to #14. Line class #5 (single hand) is the most common line class for trout.
Line classes #8 and #9 are perfect for pike fishing. Here one-hand cords are to be distinguished from two-hand cords.


3. Core structure of a fly line:
What is the soul of a fly line made of? Monofilament nylon line or braided core? Does the core have a normal elongation of about 15% or does the core consist of a "low stretch core" with only 5% elongation? such as DirectCore Plus


4. Structure / taper of a fly line:
Most fly lines have a certain structure (Weight Forward = WF). This makes it much easier to cast WF lines than double tapered lines. Today's competition lines for euro nymph fishing do not have a taper and are parallel (level line).


Fly line backing
The
backing
is the string that is located below the fly line on the fly reel. The backing is spooled onto the fly reel first to fill the spool and in case of a long flight of the fish not to lose the fish. The backing is then an important reserve. The quality of the backing is very important to ensure that the line runs smoothly on the reel. A distinction is made between standard backing made from Dacron fibers and gel-spun backing (GSP = super backing). GSP backing is typically used on large, hard-fighting fish.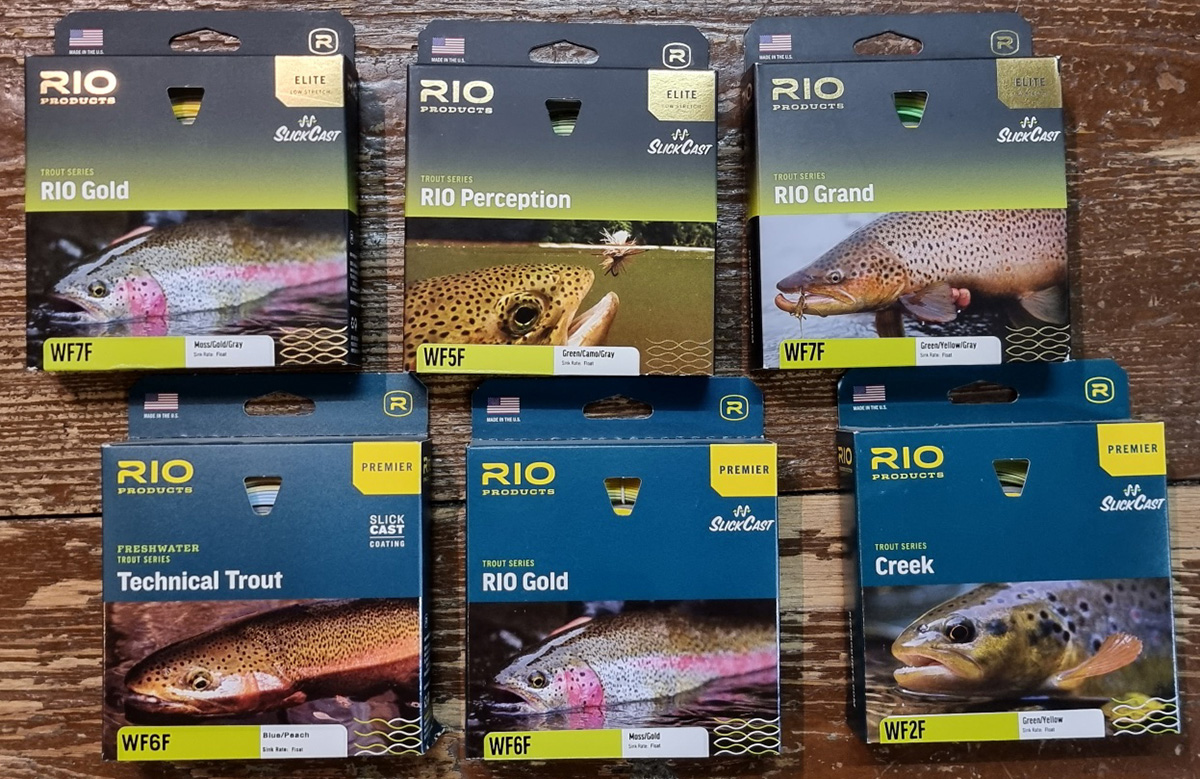 Fly Leader for Fly Fishing
The fly leader is a very important part of your fly fishing gear. It is the link between fly line and fly and ultimately to the fish. Nowadays, most fly lines usually have a small loop at the front end.
In this respect, fly leaders can usually be connected simply by means of a loop connection (loop-to-loop). If there is no loop attached to the leader, we recommend using the Perfection Loop knot to tie a loop to the end of the leader.
The selection of today's leaders is very large.
Tapered leaders
made of nylon or fluorocarbon are mostly used. When fly fishing for pike,
special leaders
with bite protection such as steel wire are necessary.
For trout fishing you are best equipped with a 9 foot (275 cm) tapered nylon canopy with a tip diameter of Ø0.16mm or Ø0.18mm. For particularly cautious fish or in clear water, we recommend fluorocarbon leaders.
Please make sure that the leader material is of very good quality, otherwise you risk breaking the leader when playing a fish. All of the leaders we offer are of very good quality. We recommend replacing nylon leaders each season, as the breaking strain can be significantly reduced by heat, UV radiation and drought.

Accessoires for Fly Fishing

When it comes to fly fishing, there are several
accessories
that have proven to be "must haves" over the years.
This includes a reasonable
line clip
(nipper) with which you can clip off the excess leader.
Arterial forceps are also important in order to be able to remove a hook from a fish's mouth as gently as possible. You can often press the barb of a fly with these
pliers
.
A decent flotation device (float, fly grease) is a very important utensil for fly fishing with dry flies.
It is important to ensure that the gel does not stick to the fibers of a dry fly.
We recommend the
Nev-R-Sink
, which has been tried and tested for decades!