Pheasant Tail Hares Ear Nymph
Materials:
– Hook: size 10-16, 2 x long with wide hook bend (brand manufacturer)
– Tungsten bead 1.0 - 2.5 mm
– Pheasent tail fibers and copper wire painted
– 0,15 - 0,22 mm fine duck breast feather (dark brown iridescent little feathers)
– Brown rabbit fur dubbing
Instructions: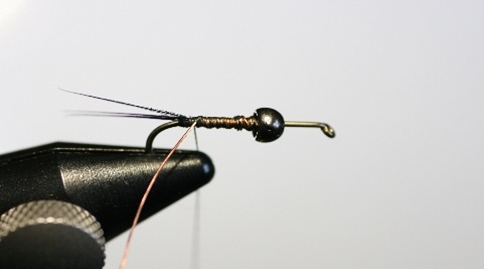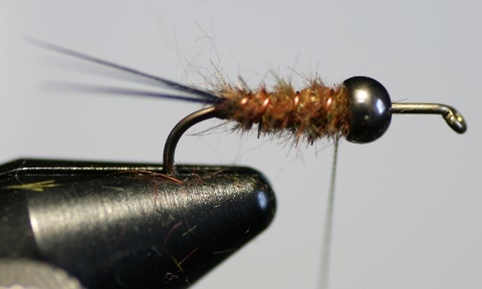 – Push the tungsten bead onto the hook and secure the hook in the vise.
– Secure the thread to the hook and tie it to the hook bend.
– Tie in 3-5 pheasant tail fibers slightly above the hook bend.
– Tie in the copper wire, a piece of about 10 cm. Tie the thread forwards to make a slender taber towards the tungsten bead.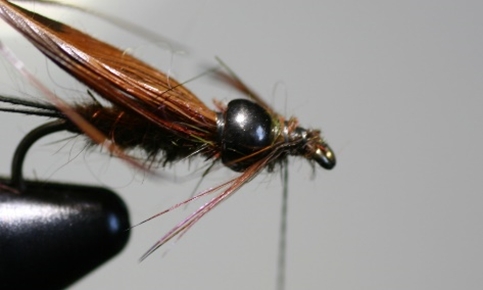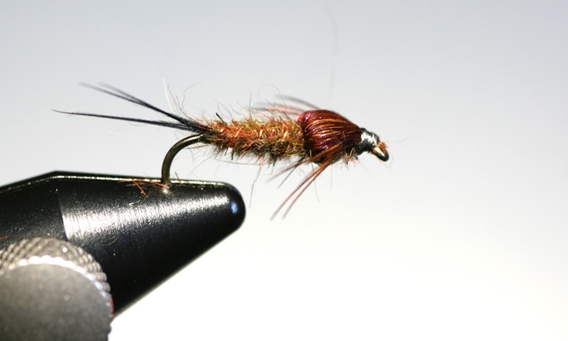 – Take a duck feather and remove fluff and tie it with the tip onto the dubbing, so that the fibers lie wide, they are later to hide the Tungsten bead.
– Push the tungsten pearl close to the dubbing. Thread over the bead and secure the bead with enough turns until tight.

– Tie in another tiny portion of rabbit dubbing in front of the bead. Pull the duck breast feather over the bead and dubbing and tie in.
– Take off three more fibers from another, slightly larger duck breast pen and tie it into the rabbit dubbing on the right and left, standing up.
– Finish the fly with a knot and some varnish.