Fly Fishing Deutsche Traun Hochberg, Bavaria
Fly fishing at the Deutsche Traun "Hochberg"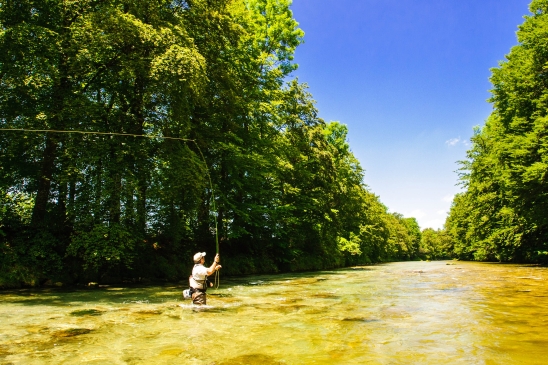 Starting with the "Spitz Au", where the Weisse and Rote Traun meets, we offer fly fishing at the Deutsche Traun "Hochberg". On this section of the Traun that goes to the Traunstein swimming pool bridge. The crystal-clear river flows along the foot of the high mountain and is home to trout and grayling. In the middle of the beautiful Chiemgau foothills, between Siegsdorf and Traunstein, you can pursue your passion for fly fishing and just enjoy it. The river here has an average width of about 20 meters. Quiet water stretches, fast flowing runs and deep pools alternate between each other. With the nymph or dry fly, you can experience very good fishing. With a little luck and skill, it is possible to outsmart one of the many big trout that live here.
It is not allowed to fish with jig, streamer or bread-flies. Also, the attachment of split shots on the leader is prohibited. There is one fly per leader allowed. Chest-high waders must be pulled down to the waist (waist waders and wading pants are also allowed). Of course you can only fish with a fly rod and with barbless flies.
Please reserve your licenses in good time! Come visit us and try to get your dream fish on the hook!
Contact us directly by phone (+49 (0) 8662 7070) for your reservation request!

Then we can give you information about the availability.

Season: end of April to beginning of October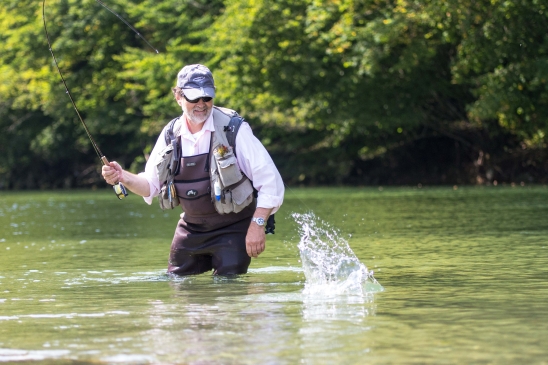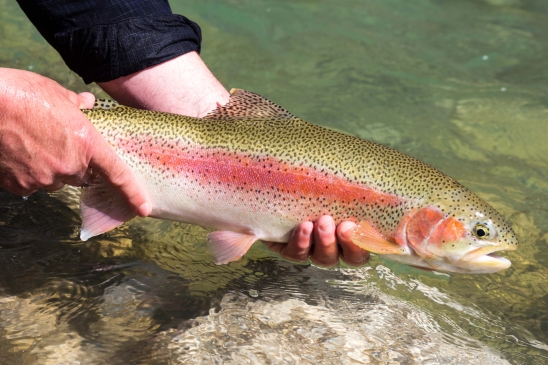 Prices:
starting at 70 Euro / day - additional "Prime Time" fees (1.05. til 30.06 and 1.09. til 4.10.) plus Weekend surcharges.
Fishing Marker (obligatory): 10 € (deposit)

Waters limits / parking:
Upper boundary (inkl. Parkplatz): confluence White and Red Traun "Spitz Au" -> coordinates (47.83287 / 12.6462) Google Maps
Lower boundary: Schwimmbadsteg Traunstein -> coordinates (47.86169 / 12.64068) Google Maps
Parkplatz am Seiboldsdorfer Wehr: Google Maps