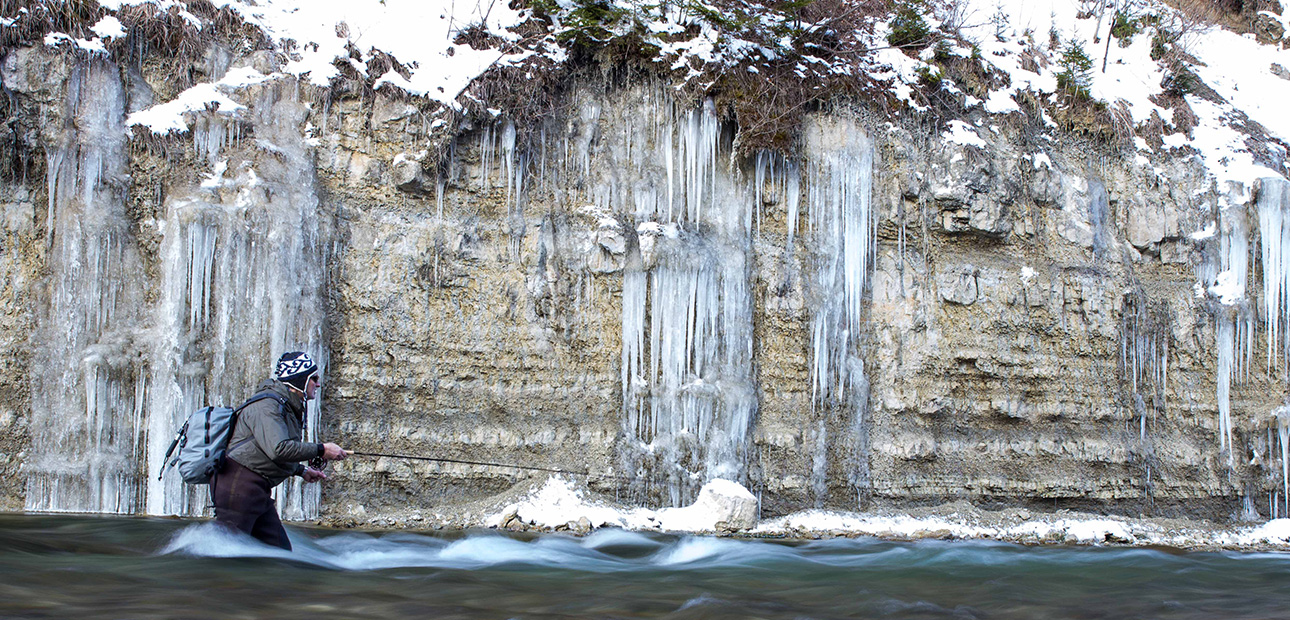 Fly Fishing for Hucho Hucho
Fly fishing for hucho hucho has become enormously popular in the Bavarian and Austrian area. About 20 years ago, it was believed that a hucho hucho only could be caught with spin rods or the classic Huchenzopf. More and more attempts were started to outsmart the mysterious Great Salmonids of Central Europe with the fly rod.

Today, fly rods and fly lines have become so advanced that fly fishing (one-handed or two-handed) after hucho hucho is a very popular fishing activity for the winter months. Especially when the trout have a closed season, the hucho hucho is a more than welcome alternative.


One thing in advance: Outsmarting a hucho hucho with a fly rod is hard work!


The conditions for winter hucho hucho fishing are often anything but pleasant - the temperatures are low and often below 0 degrees. The water is freezing cold and sometimes ice floes swim past you. The access to the rivers is often snowy and especially good spots often require long walks in ice and snow. As if that wasn´t enough, hucho hucho rarely eat in these adverse and cold conditions, as the fish reduce their metabolism to a minimum due to the cold temperatures. A hucho hucho grabs a prey and then digests for a while without eating any food. The next raid can take days. Despite all these adverse conditions, the fascination hucho hucho fishing is unbroken and the fulfillment is great a hucho hucho finally takes the streamer and the fight can begin. Our experience in hucho hucho fishing with the fly rod (one-handed and two-handed rod) is very large. We have been fishing for hucho hucho for several decades with the fly rod. Over time, there have been many developments in fly rods, fly reels and fly lines. Of course, the baits have changed significantly. In this context, we would like to give you a few equipment tips for hucho hucho fishing.


Fly Rod - One Hand:
When fishing for hucho hucho it is very important to use a fly rod with a lot of backbone and restoring force. The flies used are often big and heavy. In addition, lines with sink parts are often used. So you need rods with a high "lifting power". In addition, the rod should have enough power to control a fish longer than 1 meter in a flowing river and land it safely. As line classes we recommend you classes frrom 9 - 11.


Fly Rod - Twohand:
Even a two-handed rod requires a lot of backbone and restoring force. As mentioned in the one-hand tail, the flies are often big and heavy. This leaves only the option of using heavy skagit shooting heads. We recommend strong two-handed rods in line classes 9-10.


Fly Reels:
The fly reels used should be suitable for ice and snow. The brake must be strong and solid. Here we usually use encapsulated carbon fiber brake systems. The reel must function properly under adverse conditions when the rare bite comes. Then you have to be able to rely on his reel. There is no point in saving money here.


Fly lines:
In single-handed fishing, the modern sink-tip lines have prevailed. With long sinking clubs even the deepest spots can be reached well. The big, heavy hucho hucho streamers are not easy to fish with, so the line has to have a lot of force to deliver these streamers delicately. In the field of two-handed fishing, the modern shooting head systems have proven their worth. The shooting heads effortlessly move the streamer to the location of the fish. With the respective sink tips that are looped in, you can respond to different depths.


Waders and shoes:
In the winter months we recommend a good neoprene wader. The modern neoprene waders offer so much comfort these days that you feel warm and comfortable even in very cold and wet conditions. In addition, a neoprene waders when fishing alone is much safer than conventional waders. A fall with a neoprene waders into the icy flow in comparison to a breathable waders is to be evaluated under safety aspects and here the neoprene waders are clearly in favor. When selecting the wading shoes theq must have a sufficient ruggedness, as often long marches are necessary throughout the day.


Clothing:
Basically, you should dress according to the layer principle / "onion look". Functional underwear in combination with nano / micro-puff products and a hard-shell jacket have proven to be the best insulating layers.

Here we give you product recommendations for a successful fishing with the fly rod on Hucho: