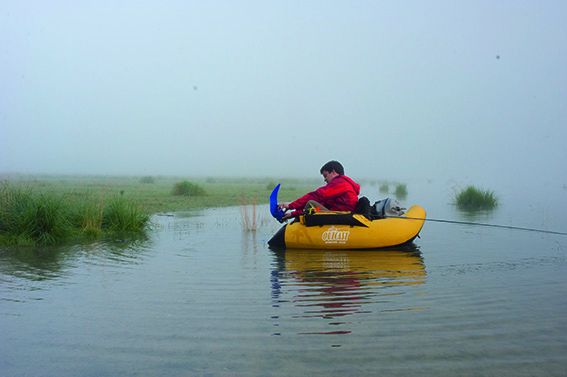 Fishing for Whitefish

The fishing for whitefish, has gained popularity in recent years.
The European Whitefish (Coregonus lavaretus) live mostly in deeper lakes with a high oxygen content, as well as in deeper water layers. The growth of the whitefish depends on the supspecies and and the amount of plankton in the water. Depending on the species the whitefish can reach up to 70 centimeters and more. In the Salzkammergut on Lake Fuschl, in 2010 an absolute exception with more than 9 kilograms was landed by a fishing boat. Whitefish lives in many lakes in europe for example, in Lake Constance and other alpine lakes such as the Chiemsee, Walchensee, Bielersee, Lake Neuchâtel, Lake Geneva, the Salzburg lakes, the Carinthian lakes, in the northern Italian lakes or in some North German lakes.

Undoubtedly the most common way to go fishing for whitefish iis with a "Hegene system". The Hegene is a paternoster system that is equipped with several side arms. Depending on the requirements of the fishing permit, between three and five snack stations have proven successful. In order to bring the Hegenen assembly down to depth lead weights are used. The lead may have a drop or a rod shape. The choice of lead results from the nature of the soil or the depth to be fished.
Three methods of fishing have been established in recent years:
The pose assembly
The Überbleite pose
The picking

While the Posenfischerei can be operated on the banks of the River Renken, a boat is an advantage for catching. Using a fish finder or a sonar is a guarantee to find the fish as quickly as possible and to catch.
The best time of fishing are in the early morning hours and the late afternoon until dawn.
When you arrive at your fishing spot it is time to choose the right Hegene with the appropriate nymphs. The selection of the Hegene depends on the water cloudiness, the emergence of the plankton (seasonal) and the depth of the water.
Gear recommendations
Rod: Length 1.80 m - 2.45 m (With sliding reel seat for optimal Weight distribution between rod and reel)

Reel: Small stationary reel (500 to 1000 size) or classic reversible reel

Main line: Monofilament line between 0.18 and 0.25 mm. Braided line with a diameter of 0.06 - 0.10 mm A braided line is used for better bite detection in deeper water levels.

The Hegene: Depending on the nature of the body of water, is a hergene with a tippet material of 0.16 mm recommended. The length of the springer should be around 2 - 3 cm on a slightly stronger line. The distance between the springers should be between 20 and 30 centimeters. Most commonly are lead weights between 3 and 15 grams.

Text: Florian Haiker